Full and Partial Dentures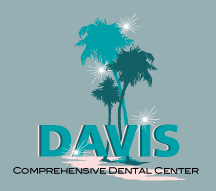 The dental term "Dentures" refers to several different types of prosthetic teeth, all of which are replacements for missing teeth and tissue.

Depending upon the need, Dr. Davis may recommend partial dentures or full dentures or a combination to provide you with comfort, function, and a natural appearance.

Regardless of the specific type of denture that is selected, Dr. Davis uses only the highest quality materials that are custom designed to duplicate real teeth and enhance one's facial appearance, mouth functions, and the beauty of one's smile.

Dentures Help Restore Your Quality of Life
The dentures that Dr. Davis provides consist of replacement teeth made from high quality material that is durable yet natural. The replacement teeth are attached to a comfortable, gum-colored plastic base, which is custom designed to fit snugly onto your dental arch. The base then either rests on the gums, is secured using special dental adhesive, or is connected to dental implants or permenant teeth.

Full Dentures
After all teeth have been removed and the gum tissues has healed, full dentures will be custom made and placed in the mouth. The time between the extraction of teeth and the placement of dentures is approximately 8 to 12 weeks. To bridge the gap of time, immediate dentures, or temporary dentures, can be placed to keep up appearance, chewing ablity and speech during your preparation.

Partial Dentures
If there are partial areas of missing teeth and some healthy teeth that are still intact, then partial dentures may be the right solution for you. Similar to full dentures, Dr. Davis will take impressions that will be used to custom design your denture partial. Dr. Davis will cosmetically blend your partial denture with your remaining natural teeth for an attractive look and comfortable bite. Partial Dentures are also referred to as "Dental Bridges".

About the Procedure
Dr. Davis will examine your bone structure and gums to diagnose the correct procedure and treatment plan for your teeth. After any required tooth extraction is completed, the next step is to make an impression of your gums in order to ensure the creation of a peferectly fitting denture. When your gums are healthy and healed, your dentures will be placed.

Common Challenges with Dentures
There are many advantages to having dentures such as appearence, ability to chew food, speech, and more. However, there may be a few difficulties at first when getting used to dentures. Your mouth may take some time to adjust to the dentures before learning to keep them in place. Irritation may also occur, but should lessen over time. Eating and speaking may also be challenging at first. Dr. Davis will discuss the best course of action and diet in order to facilitate a smooth transition.

Contact Us
Our goal is to help you achieve the most attractive smile and enjoy the most healthy mouth.

For more information regarding full dentures, partial dentures, dental bridges and any related treatments or dental appliances, contact the Pompano Beach based office of Dr. John M. Davis III, D.D.S. at (954) 941-3003.

Dr. Davis' office is centrally located in South Florida and serves patients that travel from across the globe as well as locally from Fort Lauderdale, Lighthouse Point, Deerfield Beach, Coconut Creek, Coral Springs, Parkland and Boca Raton.

Patient Financing Offered by Lending Club Patient Solutions: