High Quality Dental Implants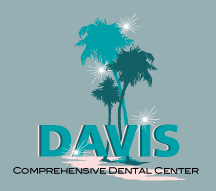 Dental implants are titanium alloy screw-like structures that are anchored to the jaw bone. Titanium alloy is the same material that is used in joint replacement procedures; it is strong, lightweight, and has proven to be a safe material for long term use in the human body.

Dr. Davis has been commitmented to continuous study and training in the field of implantology for many years and has earned membership into the International Congress of Oral Implantologists.

Dr. Davis believes in using the highest possible grade of implants and is happy to explain the benefits of such material, as well as any possible complications that can occur when choosing inferior quality materials.
Reasons Dr. Davis will Recommend a Dental Implant Procedure:
To provide a highly stable support system for replacement teeth or dentures.
To improve biting pressure.
For optimal comfort and fit.
For longevity and reliability.
For cosmetic purposes and an increase self-confidence.
In order to remedy the missing of a single tooth.
What to Expect During a Dental Implant Procedure:
The procedure is completed in Dr. Davis' office as an outpatient operation.
Dr. Davis will devise the best treatment plan for you by evaluating your dental history and x-rays.
An anesthetic will be administered to ensure comfort.
During surgery, each implant is placed within the jaw bone to serve as an anchor to support the replacement teeth.
You will be placed on a soft diet and given written instructions on limitations with certain activities, especially strenuous activities. You will be monitored throughout the healing process and advised in follow-up appointment(s) on when to return to a normal diet and when the limited activities can be engaged in again based on your individual healing progression.
Over time, the bone tissue will then grow around the implants and hold them securely in place.
From a cosmetic standpoint, dental implants and crowns are one of the most dependable structures that can be utilized in crafting a beautiful smile. With a highly skilled dentist, a patient can expect a dental implant and crown to achieve a natural looking, attractive, comfortable replacement for a missing tooth.

For more information regarding dental implants and related services, contact the office of Dr. John M. Davis III, D.D.S. at (954) 941-3003.

Dr. Davis' office is centrally located in Pompano Beach, FL and serves patients that travel from across the globe as well as locally from Fort Lauderdale, Lighthouse Point, Deerfield Beach, Coconut Creek, Coral Springs, Parkland and Boca Raton.

Patient Financing Offered by Lending Club Patient Solutions: