Cosmetic Dentistry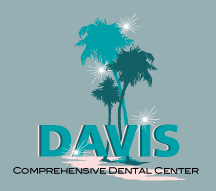 Cosmetic dentistry is a totally elective treatment. The focus is strictly beautification of the smile and Dr. Davis thoroughly enjoys cosmetic dentistry. Dr. Davis never forgets that in beautifying a smile or creating a beautiful smile that proper function of the teeth and mouth should never be compromised.

Even a minor change in your smile can make a dramatic difference in the way you look and feel and in how others percieve you. Whether you desire whiter, straighter, more perfectly shaped teeth or less of a gummy look Dr. Davis can help you achieve that transformation. Indeed,
Dr. Davis can transform your smile into one of the things you will like most about yourself and one of the things that will wow others about you.

Dr. Davis has been revered as a "dental artist" when it comes to crafting a beautiful smile through cosmetic dentistry. From simple cosmetic touch ups to complete mouth transformations, his office offers a wide range of high quality cosmetic procedures to enhance your teeth and create your most beautiful smile.

At your consultation, Dr. Davis will complete a comprehensive cosmetic exam. Upon completion, you will be presented with a customized treatment plan and Dr. Davis will discuss all of the details involved in your suggested transformation.

Our Most Popular Cosmetic Dental Procedures
Naturally Colored Porcelain Fillings
High Quality Dental Implants and Beautifully Sculpted Dental Crowns
Color Matched Tooth Bonding
Artistically Crafted Porcelain Veneers
Orthodontics
Invisible Braces
Full or Partial Dentures
Gum Contouring
Professional Teeth Whitening
Depending on your goals and the overall appearance and health of your mouth, Dr. Davis may suggest just one or perhaps several of the procedures above.
The two most important aspects of cosmetic dentistry are the materials being used and the dentist that is controlling the outcome. Dr. Davis only uses the highest quality FDA approved dental materials. As for Dr. Davis, his reputation as a gifted cosmetic dentist precedes him, as many of his patients have literally traveled from across the globe to enjoy the benefits of his artistic cosmetic dentistry, such that, models, pageant contestants, local, national and international celebrities from the music and film/TV entertainment industry have sought him for their cosmetic dental work.

When you look into the mirror and evaluate the appearance of your teeth, how do you feel? If you are not completely happy with what you see, contact Dr. Davis to discuss the options that he can recommend for a more satisfying smile.

Dr. Davis' goal is to create a healthy, beautiful smile that you can be proud of for a lifetime.

For more information regarding cosmetic dentistry, porcelain veneers, dental implants and crowns, or any other related cosmetic dentisry, contact the office of Dr. John M. Davis III, D.D.S. at (954) 941-3003.

Dr. Davis practices cosmetic dentistry in Pompano Beach, serving patients that travel long distances as well as locally from Fort Lauderdale, Lighthouse Point, Deerfield Beach, Coconut Creek, Coral Springs, Parkland and Boca Raton.

Watch our Video

Patient Financing Offered by Lending Club Patient Solutions: